Livestock Insurance in Newville PA, Carlisle PA & Shippensburg PA
Animals are Assets too
Kingsley Blasco Insurance Inc. provides livestock insurance to farmers and ranchers in Newville, Carlisle, Mechanicsburg, Shippensburg, Mt. Holly Springs, Gettysburg, and surrounding areas.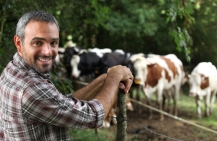 As the owner and operator of an independent farm or ranch, you've made a number of investments into your agribusiness – equipment, machinery, and crops. Livestock is also a big investment for farmers and ranchers alike, and like any financial asset, you'll want to ensure a high-level of security and protection – so your animals will stay covered.
At Kingsley Blasco Insurance Inc., we know that the health and safety of your animals directly affects the health and profitability of your farm. Livestock insurance can protect you and your farm against the financial losses that could occur if your animals are harmed or killed as a result of a covered accident such as a fire, blizzard, or other natural disaster – even when your animals in transit.
Livestock insurance policies will vary from person to person, farm to farm, and animal to animal. The insurance value of each animal is usually its purchase price, but other factors such as performance level or value of your animal's offspring can increase that value. A specialist at Kingsley Blasco Insurance Inc. can help you determine the right amount of coverage at a price that meets your needs.
Our Location
Kingsley Blasco Insurance - Main Office
15 Subdivision Rd
Newville, PA 17241
Main office:
717-776-7138
Toll free:
888-404-7679
Fax:
717-776-2362
Testimonials
Blasco Insurance are all really good people. I had an accident and Kingsley was there right away. He helped me out when I was in a pinch and I would definitely recommend him to anyone.
We've worked with Blasco Insurance for years because of the level of service they provide. I'm looking for the best value, not the cheapest insurance around. I use Blasco Insurance because they know our business and can give great advice on the coverages we need.